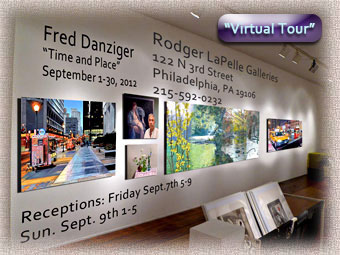 "Time and Place"
A September 2012 show of paintings by Fred Danziger at
Rodger LaPelle Galleries

Wednesdays to Sundays 12pm~6pm
122 North Third Street
Philadelphia, PA 19106
215-592-0232

Receptions to meet the artist: 1st Friday September 7th, 2012 5-9 p.m.
also
Sunday September 9th from 1-5 p.m.
Note: Sunday offers free parking on surrounding streets.
1st Friday crowds are quite large...but lots of fun! Free parking after 6:30 p.m.
(note: show contents may vary slightly from works shown here.
Prices range from $350. to $22,000 contact gallery or the artist for further information.
Contact Fred Danziger for Information.

Contact LaPelle for price information.(or call the gallery)