Return to 1991 Archive -
<! note: first 250 characters of this headline are also searched and indexed>
"Spring Rain in the Mill Town Valley" 1991 Acrylic 60" x 72"
collection: Allegheny General Hospital- Pittsburgh, PA
<! insert text and images after this>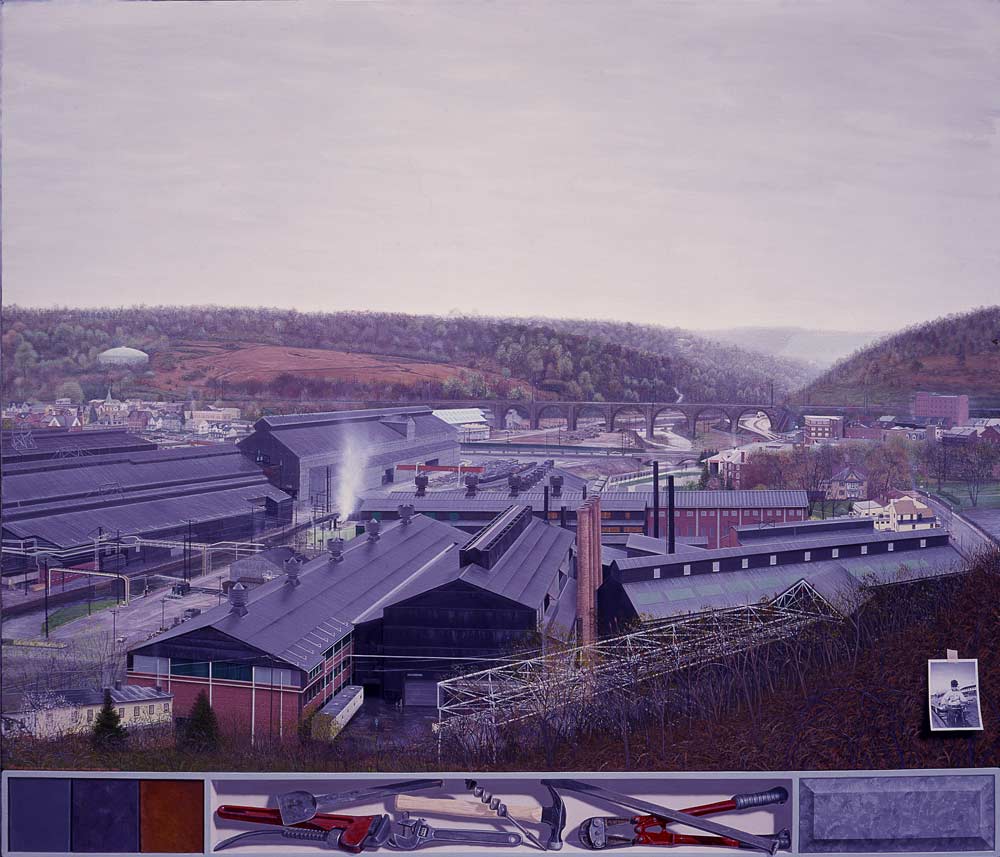 I was raised in Chartiers Terrace, a little post-war housing project on the edge of Carnegie, Pennsylvania. The ethos of a "mill town" was all around, and many of the families in the projects worked for local mills, including generations of Danziger men. I spent the summer of 1966 working for USSteel's Wheel and Axle Division in McKees Rocks, PA. We made railroad wheels, and we also made wheels for the gantry cranes that rolled the moon rockets out to launch pads at Cape Canaveral. It was an amazing place to work, full of white hot steel and good comaraderie. The "Busy Bee" tavern outside the mill gate did a booming business, and by the end of the summer, I had a new respect for what my father had done.


The town of Coatesville, near where I live now, is practically a clone of Carnegie. The same steep streets. The same big black mill which is the center of activity, the same boys on bikes, the same cemetaries on the hills, overlooking the town. I wanted to paint this place, the Lukens Steel plant in Coatesville, both for the strange beauty of it, and as a childhood remembrance. Where did you grow up? I'll bet the place has unique meaning to you.

The picture is of me, as a lad of 6, sitting on my older sister, Deloris' bike. Some people may wonder, "why is he putting this "blank" on here!" The reason is that I enjoy reading about other peoples lives on the net, so I'm doing the same!

The stream which winds down between the distant hills is the West Branch of the Brandywine Creek. About five miles up, is the Lafayette Road bridge, from where I did the previous painting on this path (Brandywine Winter). About 15 miles down the stream, is the farm of Andrew Wyeth, an artist who I believe, will one day receive much more than the popular acclaim he now has. He will be seen as one who kept nature alive in his art, when artists were not supposed to do so...

One of the clear memories I have of working in the mill, has to do with tools. To work with the dies and other molds for wheels, we had enormous 3-4 foot long wrenches which were used to loosen huge bolts and hex nuts the size of watermelons. At some point after that, I saw a "normal" sized pipe wrench, and it was hilarious! It was so dainty compared to what I'd been used to- it seemed like some kind of a joke.

Return to: --RecentWork -- Archive -- Bio -- Guest Artists -- Art Topics --HOME - or - E-mail contact