Return to 1994 Archive -
"The Beginning of the End of Ice"
1994 Acrylic on paper 42" x 48" by F. Danziger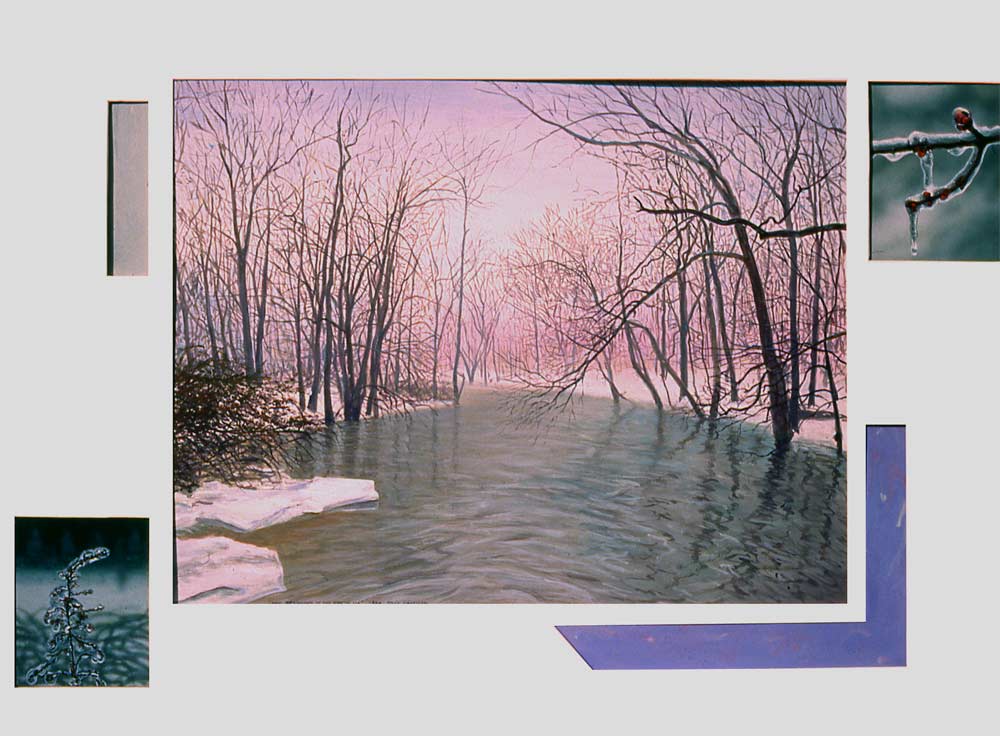 The winter 0f 1993-94 was depressingly, relentlessly, debilitating. From the end of December till the end of March, temperatures were almost always below freezing. The ice, however, was the worst. We would get freeezing rains and sleets, and they kept piling up, on top of one another. You couldn't shovel it, like snow- and as a result, layers of ice got thicker and thicker. The road crews had to use back hoes to scrape down the highways, but resulting ice "pot holes" made driving an adventure. We hacked paths around the house with ice chippers. Salt, to melt ice was like gold. There were thefts of it from municipal storage areas. At one point, the ice was so thick and compacted, it glowed with the blue-green light that I had seen in films about Antarctica - and in Fredrick Church paintings of that region!
When the weather warmed slightly, the ice melted and channeled into barns and basements. At the end of March, the ice on the Brandywine Creek near our home began to melt. The stream flooded and rushed violently loose. I went to the bridge, from the same place where I painted a winter and autumn view of the stream and did this painting from that location.

Return to: --RecentWork -- Archive -- Bio -- Guest Artists -- Art Topics --HOME - or - E-mail contact